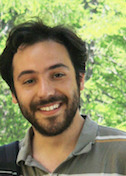 Marcos Sotomayor
Ohio State University
Published July 30, 2019
When Marcos Sotomayor explains his research out loud, his voice tickles the topic of his studies. A core biological question in his laboratory addresses how hearing happens at the molecular level.
For words to be heard, sounds reach deep into a listener's ear and vibrate bundles of hair-like projections called stereocilia. The bundles are perched atop hair cells, the sensory cells of the inner ear.
When the bundles move, channels open at the stereocilia tips. Potassium and other ions rush in, causing release of chemicals at the hair-cell base, where auditory nerves translate them to ...
Find out More »