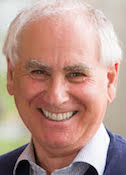 Tom Rapoport, Ph.D.
HHMI, Harvard Medical School
Published February 23, 2018
Cell biologist Tom Rapoport may be best known for studies of how proteins get in and out of a convoluted compartment inside cells called the endoplasmic reticulum (ER). But his personal backstory rivals his scientific achievements as a Howard Hughes Medical Institute Investigator at Harvard Medical School (HMS). His life has been intimately shaped by major political persecutions and social upheavals of 20th century Europe and America. Here's the short version:
"My father was born in Russia into a Jewish family that emigrated during the Russian revolution to Vienna," Rapoport wrote in a 2010 essay ...
Find out More »