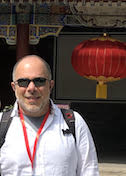 Daniel Minor Jr.
University of California, San Francisco
Published September 27, 2019
Kissing a frog might not spark a fairy tale ending, but learning how frogs survive some of nature's most deadly poisons has opened a new chapter in the laboratory of Daniel Minor Jr.
The potent neurotoxin saxitoxin, for example, can come from algae blooms in fresh, brackish, and oceanic waters, such as red tides, which seem to be on the increase from climate change and other factors. The toxin accumulates in clams, oysters, and mussels. If people eat contaminated shellfish, they can die within hours. Saxitoxin has a lethal dose a thousand times smaller than deadly ...
Find out More »