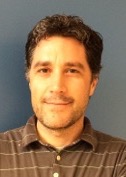 John Pascal
Université de Montréal,
Published February 28, 2019
Genetic damage can set the stage for normal cells to turn into cancer. So it may be surprising that blocking a DNA damage repair molecule can kill some cancer cells. John Pascal became intrigued by one of these molecules just as it came on the biomedical radar as a cancer target.
"Inhibiting PARP-1 is exquisitely toxic for cancer cells deficient in certain types of damage repair," says Pascal, a structural biologist at Université de Montréal in Canada. "Normal cells can largely get by without it."
Yet, it was unclear how PARP-1 contributes to DNA damage repair ...
Find out More »