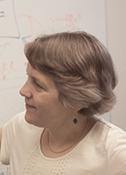 Phoebe Rice
University of Chicago
Published January 31, 2017
A few years ago, at a New Year's Eve party in her neighborhood, Phoebe Rice mentioned, as you do, that she needed some methicillin-resistant Staphylococcus aureus (MRSA) strains.
A neighbor responded: "Have you met Bob and Susan?"
They had a freezer-full and were willing to share. Soon after, Rice, professor of biochemistry and molecular biophysics at the University of Chicago, began investigating the mobile elements of DNA that give Staph its methicillin-resistance capability.
Initially she focused on the DNA recombinase protein that allows the mobile element, a type of genomic island, to insert itself into ...
Find out More »