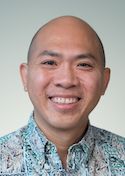 Ho Leung Ng
Kansas State University
Published February 25, 2021
The COVID-19 pandemic has schooled scientists in unexpected ways. Ho Leung Ng, for example, was surprised to learn coronavirus infections are common and often fatal in cats.
"I'm more of a dog person," says Ng, whose training was in chemistry and human medicine.
Until the pandemic loomed, cats and coronaviruses were far from his mind. Ng's laboratory at Kansas State University mainly worked on designing cancer drugs using artificial intelligence and X-ray crystallography.
In early 2020, as COVID-19 spread across national borders, Ng's lab shifted priorities. "We felt like we were in a position to possibly …
Find out More »