Join us for our monthly live webinar series in which we feature contributing developers demonstrating their software, highlighting new features, and previewing future developments. You'll hear the latest news and have opportunity to ask questions directly relevant to your research. Be sure to subscribe to SBGridTV to receive alerts when we post new recordings and view our full collection of past tutorials.
Up next: TomoAlign

April 2nd at 12pm EDT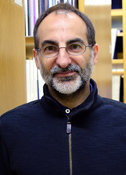 TomoAlign: Consideration of sample motion in cryoET

José-Jesús Fernéndez
Spanish National Centre for Biotechnology
Group Leader

Recent evidence suggests that the beam-induced motion of the sample during tilt-series acquisition is a major resolution-limiting factor in electron cryo-tomography (cryoET). It causes suboptimal tilt-series alignment and thus deterioration of the reconstruction quality.
The package TomoAlign implements an approach to cryoET tilt-series alignment and tomographic reconstruction that extends the standard fiducial-based procedure by considering the beam-induced sample motion through the tilt-series. The sample motion is modelled by means of either polynomial surfaces or interpolation splines from the residuals from the standard alignment. And the resulting motion model is then integrated in the tomographic reconstruction so as to yield a motion-compensated tomogram.
TomoAlign also contains an alternative approach that may be valid for thin samples. Here the motion model is used to compensate for the motion at the image level by warping the images of the tilt-series. As a result, a pseudo-perfectly aligned tilt-series is produced, thus enabling the use of standard tomographic reconstruction programs.
Thanks to the ability to compensate for the sample motion, TomoAlign may be a useful tool to improve the quality of tomograms and the resolution in cryoET.
For more information, visit the TomoAlign website and read these publications: [Abstract 1] [Abstract 2]
Webinar connection instructions: We are now using BlueJeans to connect for webinars. Connection instructions:
---
Full Webinar Lineup 2018-2019
October 2: Phenix/DivCon with Lance Westerhoff - XModeScore: using crystallography to determine protonation states, fragment binding modes, and flip-states.
November 6: Relion 3.0 with Sjors Scheres - RELION-3: new tools for automated high-resolution cryo-EM structure determination
December 4: PanDDA with Nicholas Pearce - PanDDA: extracting ligand-bound protein states from conventionally uninterpretable crystallographic electron density

January 22: DENSS with Thomas Grant - DENSS: Ab Initio Electron Density Maps from Biological SAXS Data
February 26: TOPAZ with Tristan Bepler - Topaz: particle picking with positive-unlabeled learning.
April 2: TomoAlign with Jose-Jesus Fernandez:
May 7: crYOLO with Thorsten Wagner:
June:
July 23: Model building and validation in CCP-EM with Colin Parmer
​