Join us for our monthly live webinar series in which we feature contributing developers demonstrating their software, highlighting new features, and previewing future developments. You'll hear the latest news and have opportunity to ask questions directly relevant to your research. Be sure to subscribe to SBGridTV to receive alerts when we post new recordings and view our full collection of past tutorials.
Up next: EMAN2

November 12th at 12pm EST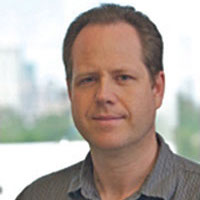 In-situ and in-vitro subtomogram averaging to subnanometer resolution using EMAN2.3
Steven J Ludtke, Ph.D.
Professor
Baylor College of Medicine

EMAN2 has long been a tool for CryoEM single particle analysis, variability analysis and general purpose image processing. We have now completed development of a complete pipeline for per-particle per-tilt (PPPT) subtomogram averaging, a technique which hybridizes high resolution single particle analysis with subtomogram averaging. With appropriate data collection, it is possible to achieve subnanometer resolution from particles directly within their native cellular environment. This pipeline encompasses the entire process from tilt-series alignment, deep-learning based annotation and particle picking, traditional subtomogram averaging and finally PPPT alignment and averaging with automatic CTF correction, orientation refinement, bad tilt detection and other features. The automatic tilt series alignment has been shown to work fully automatically on data sets without fiducials and on data which clearly failed using other tools. While these tools continue to evolve, the pipeline in EMAN 2.31 is fully functional for this entire process.
For more information, visit the EMAN2 website for documentation, read this primary publication: [Abstract], and this article, hot off the presses, in Nature Methods on A complete data processing workflow for cryo-ET and subtomogram averaging.
Webinar connection instructions: We are now using BlueJeans to connect for webinars. Connection instructions:
Full Webinar Lineup 2019-2020
September 24: ISOLDE with Tristan Croll
October 8: Phenix-Amber Integration with Nigel Moriarty
November 12: EMAN2 with Steven Ludtke
December 10: Cinderella with Thorsten Wagner
January : VMD with John Stone and David Hardy
February 11: Schrodinger Introduction to Structure-Based Drug Design with Jennifer Chambers:
April:
May:
June:
July:
​